Rounding it up
Couples that budget together, stay together. Start by deciding on your financial goals, both individually and as a duo.

Identify your sources of income, and jot down your personal and joint expenses.

Next up, and this is the toughest part, decide how you will split these expenses.

Finally, it's time to budget. Set spending limits and saving expectations, find ways to fund the budget, and remember to stay hands-on so you can stick with it.
Congratulations, you're in love! And you're moving in together—that's awesome. Now for the fun part. Talking about money.
Okay, so it's not exactly romantic to sit down and make a budget together, but it's an important thing to think about—and, yes, it can be surprisingly intimate (and rewarding!) to create goals together and work toward them.
Building your life with someone will involve bumps, and creating a joint budget is no different— my husband and I decided to get serious about our financial health right around the time we found out we were expecting our first baby, and it was definitely … an experience, to say the least.
But I'm so glad we figured out our monthly budget. Now we both feel like we're on track, individually and together. Talking openly to your partner about money and what you want out of life is crucial for planning joint projects (do I hear wedding bells?) and for feeling secure together. Even if it's not exactly fun, there are ways to make budgeting more effective and less daunting.
Steps for effective budgeting as a couple:
1. Decide on your financial goals, both individually and as a couple.
The first and most important step in building a budget together is to determine your financial goals. You're more likely to achieve those goals if you keep your plan realistic.
Setting up a life together comes with lots of big, exciting things. Getting on the same page is crucial for managing the stress that comes with making decisions about money. And knowing that you both want the same things makes it easier to save together— prioritizing your savings will have you both feeling financially and emotionally invested in the success of your relationship.
Here are some of the goals that might give shape to your joint budget:
Paying off an existing debt/loan: Paying off your debts — especially credit card debt, but also student loans, or lines of credit — should be a priority for any couple.

Traveling together: What type of joint and individual travel budgets do you want to set? Financial experts often suggest 5% of your income, but it's totally a personal preference.

A wedding: Getting married can be an incredible, life-affirming move. Who doesn't love love? But it's not cheap! If you're not already hitched and it's something you want to do, thinking ahead of time about when you might get married and how much you might spend is a good idea.

Buying property: For many Canadians, homeownership is the number one dream. While the housing market is what it is, it's also important to think about more than just the cost of closing in on your dream home–insurance, legal fees, moving costs, and furniture. You can use a mortgage calculator to help estimate these costs. (And, of course, before you apply for a mortgage, it might be a good idea to take a peek at your credit scores and see if you need to prioritize improving it first.)

Children: Ah, the costs of raising children. They're cute, but incredibly resource-intensive. Budgeting for a life with kids is easier if you start saving up before they actually arrive. As soon as they are born, you can start participating in a Registered Education Savings Plan (RESP), to fund their future education costs. The great thing about this account is that the government will match 20% of your contributions up to $500 per year, and there are other grants you can apply for on top of that.

Savings: If you and your sweetie are in it for the long haul, you'll need to work together to figure out how to save for it. You'll need an emergency fund, of course, and then retirement savings. You might even want to chat with a financial planner (or a KOHO Financial Coach!) about how you'll meet all of your savings goals.
2. Identify your sources of income
Your available income forms a bedrock for your budget. You'll need to identify all sources of income: wages and salary, bonuses, rental income, government grants and subsidies, gifts, tax credits etc. This will allow you to start tinkering with your plans for achieving all the goals you've laid out so far.
3. Get all of your personal and joint expenses down
It's time to think of basically anything and everything you spend money on individually and as a couple. Some expenses are recurring, while some are one-off expenditures.
Focus on getting everything down on a page, or a simple spreadsheet.
You can start with your individual expenses, such as your personal transportation costs, money for personal meals and shopping. Get each expense and the dollar amount in it's own line. For variable expenses like restaurants, you can do a rough estimate which can be changed in later steps.
Next move on to the shared expenses. Most couples have individual and joint financial obligations (mortgage, savings for a future child's education), assets (house, car, savings) and expenses (groceries, date-nights, car insurance, utilities, even credit card interest), and irregular expenses (car maintenance, gifts, home renos). Reflect back on your budget goals and make sure that each of them will be addressed in the budget you're about to build.
Again, you'll want to put each shared expense and the dollar amount in it's own line of the spreadsheet. I find it helpful to keep separate columns for individual vs. joint expenses
4. Decide how you will split your expenses
This is the most intimate, challenging part. It might make for a tough conversation, but if you're both already on the same page about your goals and are both open and honest about where your money is coming from, it doesn't have to feel toxic. You're having this conversation because you want to support each other in living the life you both want!
You'll need to decide what proportion of every expense you each want to pay. It likely will vary by expense. Maybe, for example, your partner covers the family cell phone plan and you get the hydro bill. The way you split is a personal preference, but it might be helpful to consider things like how income disparity might affect quality of life, or who benefits the most from the expense — if you need HBO to feel happy but your partner is more likely to be tinkering in the garden, maybe you cover more of the streaming cost and they buy most of the perennials.
"Prioritizing your savings will have you both feeling financially and emotionally invested in the success of your relationship."
Where you're at in your relationship might dictate your investment in each other. If you both desperately want a big wedding or to buy a house together, you may decide to split the budget equally or a higher contribution from who earns more.
It's your job as a team to figure out what works for you. Sadly, there is no one-size-fits-all formula. But as long as you both honestly feel like you're in this together, and are happy with the plan, it'll make you feel even more connected, as well as set you up well to crush your goals as a team.
5. Set spending limits and savings expectations
Now is the time to discuss what budget limits work for each person. A big cushion and a hefty dose of realism are important, unless you want to constantly be disappointing yourselves or relying on your credit cards when expenses creep up on you.
That said, setting limits is an important way to eliminate wasteful spending. Knowing where your money is going can really show you how easy it is to overspend. For example, at one point, my family was spending over $800 on groceries each month. By being mindful about snacking and food waste, we've managed to trim that expense down by half.
Discuss your savings and expense expectations and decide on what numbers to input in your spreadsheet or budgeting app for certain goals. Your joint budget will provide clarity in moving funds around from one expense area towards savings for a major project.
Keep things realistic by looking at your spending habits and changing one or two little things at a time. If your partner likes to take Lyfts and you spend $15 on lunch out everyday, maybe you can introduce a Frugal Friday—they take transit to work and you bring a grainbowl from home.
6. Fund the budget
One of the easiest ways to budget as a couple is having a joint chequing account that serves as a common budget account.
KOHO, for example, has a free joint account which you can run your joint expenses through. Use our prepaid Mastercard joint account to buy dinner, pay bills, send-eTransfers and even get part of your paycheque direct deposited into. Not that we're biased, but it works perfectly for managing a joint budget as a couple.
Add a column to your spreadsheet with each of your names and assign a portion of each expense to each partner. Create a grand total at the end. This will tell you how much each person should be contributing into the joint account each month. If there are expenses you don't want to run through a joint account, make sure you take those expenses out so you come to a division you each think is fair.
Each party can transfer their own portion of money (manually or automatically) into the joint account. It's a real win-win situation – you get autonomy over your personal account and your joint expenses are handled easy peasy in the joint account.
7. Manage the budget
To maintain and manage your budget, both parties need to be hands-on. This mostly includes recording expenses regularly, either through a mutually accessible spreadsheet or through an automated report drawn from your joint account (like, ahem, Koho insights).
Methods that have worked for me are, using spreadsheets stored in the cloud and accessible to both parties (e.g. Google Sheets), recording expenses on budgeting apps or KOHO's ultimate budget template (which you can find at the bottom of this article), and using bank generated statements to track expense records. Using budgeting apps or Google Sheets require inputting expenses sooner rather than later to prevent inaccuracies and missing expenses.
Sometimes you'll have to put a plan in place when your spending is about to reach the limits you've set – and having both parties aware of what's going on makes it much simpler to get on the same page about what's not quite working.
It's important that both people feel involved in the process of making a joint financial plan. You want to feel like you're on the same team, and if one party neglects this stuff it can lead to big time frustration.
Budgeting as a couple requires dedication to sticking to set goals, spending within budget, contributing your agreed portion of income earned and being accountable to each other. It might not feel sexy, but in a way it is actually at least a little bit romantic – pursuing your dreams together is the stuff love is made of, right?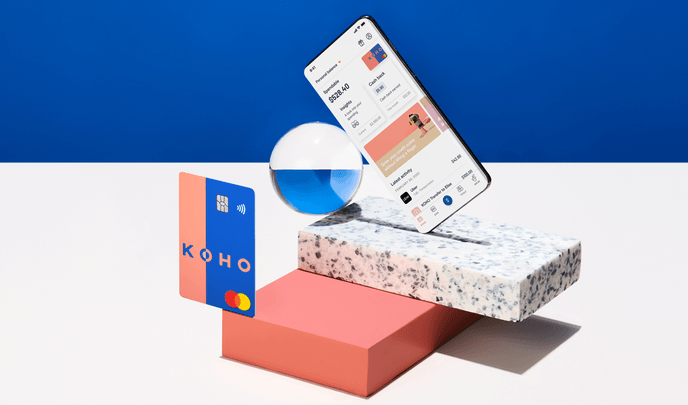 Get your personal budget template!
See where your money is going and how much you can save.
Get it now
Adeola Ojierenem, CPA is a business and finance professional. She's very passionate about writing and promoting financial literacy.
Note: KOHO product information and/or features may have been updated since this blog post was published. Please refer to our
KOHO Plans
page for our most up to date account information!